Does the July Market Update Indicate A Diminishing Opportunity For Short Sellers?
We have had a strong seller's market this first half of 2013. Low interest rates enabled more buyer demand and with the low inventory, we saw home prices go vertical. No one can tell exactly where we are headed yet some variables indicate that we may have peaked and are now cooling off.
As discussed in my previous article, being in a seller's market opens up opportunity for short seller's in terms of the ability to choose a committed buyer to stick for 90-120 days. Is the market shifting again? Let's explore the market activity for the latter half of this 2013 year.
The housing market is simple. If there is high supply and low demand, then home prices decrease. If there is high demand, and low supply, home prices increase.
What we have seen in the recent past is high demand created by investors flooding the market and homeowners who are in the market because of low interest rates (meaning affordability). Supply has been sparse due to this flood of buyers and distressed properties being held off by big banks.
What is going on today?
Here is what we've seen in demand:
Investors are exiting the market. There was a sharp decrease: 19.7% today from 23.1% in Feb. These are the lowest levels since Sept. of 2012.
Interest rates are rising. Every .5 percent increase means losing 10% of purchasing power for homeowners. Most homeowners lost about 20% of their purchasing power in the last 2 months.
Here is what we've seen in supply:
Banks have been holding off a backlog of supply aka delinquent homeowners from the market. This supply should be exposed by the end of this year or early next.
After 5 months of improvement, there was a huge spike in the delinquency rate. The total delinquency rates for June was 6.68%, a 9.91 percent increase month over month which include loans that are 30 days past due.
The graph below indicates a comeback of distressed sales.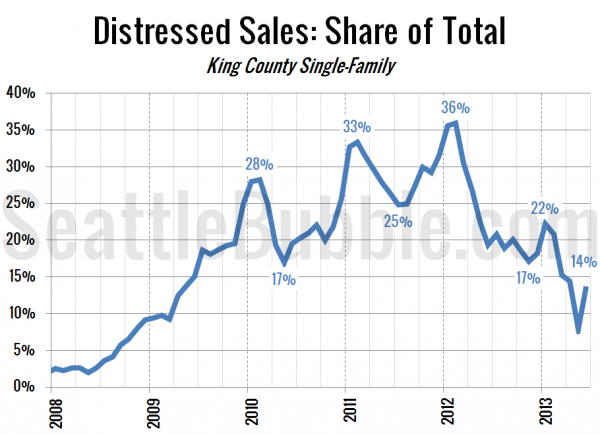 If there is more supply and less demand, not only will home prices take a ding, the "seller's market" will quickly diminish. If this is the case, short seller's will have a more difficult time closing a short sale and/or will have prolonged transactions.
If you are thinking about short selling your home, contact our top experts here and we will help you figure out what is right for your situation.
Hope this helps
Peter